Products for saving energy and cost
We maintain a wide inventory of LED lighting products available at wholesale pricing. We help you determine the correct products for your location, can provide installations services, and file paperwork for eligible utility rebates. Contact Us or your MiEBS Representative for current catalog and pricing.
---
LED Lighting decreases commercial and residential energy footprints and in the process reduces energy usage and saves money.





Quality LEDs, Energy Consulting and Monitoring services for commercial and residential use.


MiESB offers a wide range of LED Lighting in inventory, both standard and emerging LED technologies.


Industry Standard, MFG Product Specific money back guarantees and Energy Rebates on our services and products.


Regularly low prices and International deliveries .


We work with businesses, architects and contractors to supply complete projects, within budget and time frame.


Accessible, friendly Customer Service


You can view our online catalog at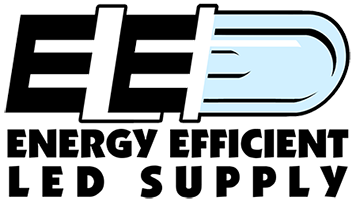 ---
The Benefits of LED Lighting
The light-emitting diodes (LEDs) are one of today's most energy-efficient and rapidly-developing lighting technologies. Quality LED light bulbs last longer, are more durable, and offer comparable or better light quality than other types of lighting.
Energy Savings
LEDs are a highly energy efficient lighting technology. Residential LEDs — especially ENERGY STAR rated products — use at least 75% less energy, and last 25 times longer, than incandescent lighting.
Widespread use of LED lighting has the greatest potential impact on energy savings in the United States. By 2027, widespread use of LEDs could save about 348 TWh (compared to no LED use) of electricity: The equivalent annual electrical output of 44 large electric power plants (1000 megawatts each), and a total savings of more than $30 billion at today's electricity prices.
How LEDs are Different
LED lighting is very different from other lighting sources such as incandescent bulbs and CFLs. Key differences include the following:
Light Source: LEDs are the size of a fleck of pepper, and a mix of red, green, and blue LEDs is typically used to make white light.
Direction: LEDs emit light in a specific direction, reducing the need for reflectors and diffusers that can trap light. This feature makes LEDs more efficient for many uses such as recessed downlights and task lighting. With other types of lighting, the light must be reflected to the desired direction and more than half of the light may never leave the fixture.
Heat: LEDs emit very little heat. In comparison, incandescent bulbs release 90% of their energy as heat and CFLs release about 80% of their energy as heat.
LED Products
LED lighting is currently available in a wide variety of home and industrial products, and the list is growing every year. The rapid development of LED technology leads to more products and improved manufacturing efficiency, which also results in lower prices. Below are some common types of LED products.
---
Industrial and Commercial Lighting
The high efficiency and directional nature of LEDs makes them ideal for many industrial uses. LEDs are increasingly common in street lights, parking garage lighting, walkway and other outdoor area lighting, refrigerated case lighting, modular lighting, and task lighting.
Kitchen Under-Cabinet Lighting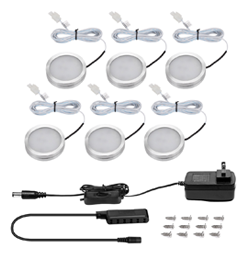 Because LEDs are small and directional, they are ideal for lighting countertops for cooking and reading recipes. The color can appear more cool or blue than is typically desirable in a kitchen, and there can be some excessive shadowing in some fixtures, so it is important to compare products to find the best fixture for your space.
---
Recessed Downlights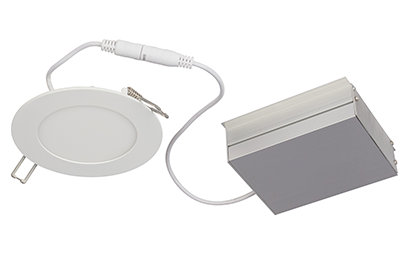 Recessed downlights are commonly used in residential kitchens, hallways, and bathrooms, and in a number of office and commercial settings. DOE estimates there are at least 500 million recessed downlights installed in U.S. homes, and more than 20 million are sold each year. Both CFL and LED technology can decrease downlight wattage by 75% or more.
---
LED Replacement Bulbs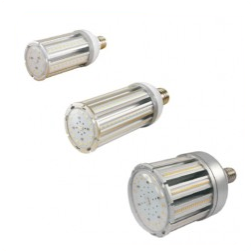 With performance improvements and dropping prices, LED lamps can replace 40, 60, and even 75 Watt incandescent bulbs. It's important to read the Lighting Facts Label to make sure the product is the right brightness and color for the intended location. When chosen carefully, LED replacement products can be an excellent option.
---
Holiday Lights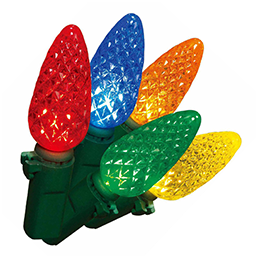 LEDs consume far less electricity than incandescent bulbs, and decorative LED light strings such as Christmas tree lights are no different. Not only do LED holiday lights consume less electricity, they also have the following advantages:
Safer: LEDs are much cooler than incandescent lights, reducing the risk of combustion or burnt fingers.
Sturdier: LEDs are made with epoxy lenses, not glass, and are much more resistant to breakage.
Longer lasting: The same LED string could still be in use 40 holiday seasons from now.
Easier to install: Up to 25 strings of LEDs can be connected end-to-end without overloading a wall socket.
---
Estimated cost of electricity to light a six-foot tree for 12 hours a day for 40 days
| | |
| --- | --- |
| Incandescent C-9 lights | $10.00 |
| LED C-9 lights | $0.27 |
| Incandescent Mini-lights | $2.74 |
| LED Mini-lights | $0.82 |
Estimated cost* of buying and operating lights for 10 holiday seasons
| | |
| --- | --- |
| Incandescent C-9 lights | $122.19 |
| LED C-9 lights | $17.99 |
| Incandescent Mini-lights | $55.62 |
| LED Mini-lights | $33.29 |
*Assumes 50 C-9 bulbs and 200 mini-lights per tree, with electricity at $0.119 per kilowatt-hour (kWh) (AEO 2012 Residential Average). Prices of lights based on quoted prices for low volume purchases from major home improvement retailers. All costs have been discounted at an annual rate of 5.6%. Life span assumed to be three seasons (1,500 hours) for non-LED lights.