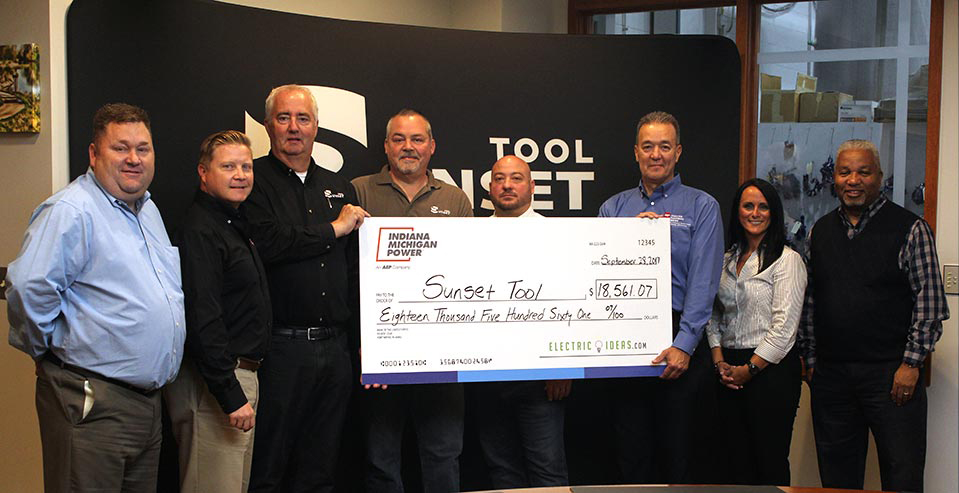 ---
working together – Sunset Tool, Inc., Indiana Michigan Power, EE LED Supply, & Michigan Air Solutions
---
Indiana Michigan Power presented a check for $18,561.07 to Sunset Tool, Inc. – Overall this project will save the company approximately 254,680 kilowatt hours per year, $32,800 annually.
Indiana Michigan Power, an operating unit of American Electric Power (NYSE: AEP), on Thursday presented a check for $18,561.07 to Sunset Tool, Inc. in Bridgman for its participation in an Energy Efficiency program designed for commercial and industrial customers.
Sunset Tool Inc. partnered with an I&M Trade Ally, EE LED Supply, to recently complete energy efficiency projects at their facility that included changing fluorescent lighting to LEDs and replacing existing compressed air equipment with new, efficient equipment. As a result, the project will save the company about 254,680 kilowatt hours per year.
Owner/CEO, Marty Mason, learned of this program through an I&M customer breakfast held in early 2017. Initially, he was skeptical of the rebate program, but after hearing the presentation and meeting with Jason Whitman, the Energy Efficiency Coordinator, he commented: "This was a no-brainer decision… we are thrilled we had this done and I highly recommend this opportunity to everyone."
"I&M strives to offer energy saving opportunities for businesses of all sizes," said Nick Elkins, Director of Customer Services and Business Development for I&M. "Sunset Tool is a great example of how local businesses can make lasting, energy efficient improvements to their operations and we're delighted to offer these programs to the business community."
Bob Bournique, Energy Efficiency Commercial and Industrial Accounts Manager for I&M, presented the check to Owner/CEO, Marty Mason on Thursday morning at Sunset Tool, Inc.
I&M offers energy saving incentives to help offset the cost of new efficiency measures. In addition to reduced energy consumption, additional benefits of participation include enhanced equipment performance, extended life expectancy of equipment, additional system capacity and reduced maintenance and cost of ownership.
---
A great project with collaborative efforts from both Michigan Air Solutions and MiEBS, EE LED Supply  for the over all energy reduction.  MAS provided all Compressed Air and Optimization of Compressor equipment.
---